WHEN ARE THE DRAWINGS?
With the current health crisis, we are unable to host the Spring Fling event for the drawing as planned. The complete count committee will host the drawings after the 2020 census deadline, currently set for June 28. At this time, we are unsure if the deadline will be changed due to the virus.
Best thing to do is go ahead and complete your census and send us your confirmation (with address) to get entered!
Stay tuned for updates on drawing dates.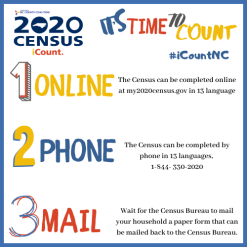 Appling County's Complete Count Committee is hosting a drawing for individuals that provide confirmation of their census for addresses located in Appling County. 
Visit my2020census.gov to complete your questionnaire. It takes about 5 minutes. If you have received an envelope like the below, you can use the code to login OR you can say you don't have a code and use your address! EITHER WAY WORKS!
Fill out the census questionnaire at my2020census.gov
Save or take a photo of your confirmation with address showing at the end of the census questionnaire.
Get a copy of your confirmation (showing address) to the chamber, Email (kjohnson@baxley.org), text (912) 381-0941, or  send  to  our facebook page via message (Baxley -  Appling County  Chamber of Commerce)
That's IT!  You are entered to win more than $5000 in prizes, sourced from local merchants
Winners will be posted on Facebook and will have 5 business days to contact us to claim prizes.
Once you fill out your census save, print, screenshot or capture proof of your confirmation(with address) and get it to the chamber. We will be doing drawings for a 65 inch flat screen tv, various cash prizes and local swag bags, ALL FROM LOCAL MERCHANTS!!
I cannot tell you how important this is to our community for the next 10 years! Please complete your census and help others do the same! It can be done online, by mail or by phone!
For each person that does not complete the census, our community stands to lose $23,000. We need you to help us make sure Appling County has access to the programs and services we need by getting an accurate census count!
Contest Rules:
Contest is for Appling County Citizens only.
Only one submission per household. If duplicate confirmations are submitted, both will be removed from the contest.
Please make sure the address and confirmation number are visible when submitting confirmation.
Retain a copy of your confirmation to pick up your prizes and please be prepared to show a photo ID.