Welcome to Baxley & Appling County!
Baxley is the intersection of two major thoroughfares, creating a centralized hub for Southeast Georgia activities from industry to shopping, entertainment and more. In Baxley and Appling County we are fortunate to have a cohesive community where leaders from across entities work together for the betterment of our city and county. Our hospital is consistently providing quality care, close to home. If it is entertainment you are looking for, spend the day at the river or lakes, fishing and boating or take a stroll through the Moody Forest Nature Conservancy. Regardless of what you are looking for, Baxley and Appling County are sure provide you with an exciting backdrop for your stay in Southeast Georgia.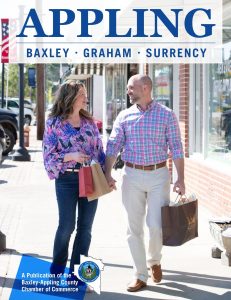 Flip through the 2021 Appling County  Magazine to see highlights of what is going on in the community. If you would like your own copy of the magazine, stop by the Chamber of Commerce at 305 West Parker Street in Baxley.