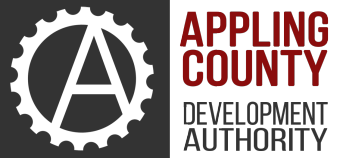 2023 Board Members
David Douglas, Chair
Charlie Leggett, Vice-Chair
Sidney Wildes, Secretary/Treasurer
Mickey Bass
James Clark
Norma Cortes
James Futch
Jack Patton
Andy Orvin
The Development Authority of Appling County and existing industry welcomes you to Baxley. As the industry recruitment entity, we are happy you are thinking of locating in our area. We offer a wide variety of sites, buildings and incentives to help your business succeed in Appling County. Centrally located between three interstates, our community can be a hub for your distribution in the South and South East.
Located in the heart of the Southeast, Appling County is central to many ports and distribution hubs. At the intersection of two major four lane highways, Appling County is a great location for access to interstates, rail, and ports.
| | |
| --- | --- |
| Distance to Major Cities | Miles     |
| Atlanta | 193 |
| Savannah | 90 |
| Columbus | 180 |
| Augusta | 120 |
| Jacksonville, FL | 115 |
| | |
| --- | --- |
| Distance to Ports | Miles |
| Savannah | 90 |
| Brunswick | 73 |
| Charleston | 158 |
| Jacksonville | 115 |
Rail: Norfolk Southern
Demographics & Statistics
Explore key data about Appling County and counties with the Community Profile Infographic tool. Demographics, education, labor force, business, consumer spending, housing and transportation are all very important parts of a community. We are proud to provide a great environment for people to live, businesses to grow and relationships to thrive.
Development Authority of Appling County
Mission
Bringing quality jobs to our community and protecting and enhancing the industries and jobs we currently have the two main goals of the Development Authority of Appling County.  Largely because of increasing manufacturing opportunities, Appling County has evolved from a strictly agricultural to a diverse economy.  Calling Appling County home are several manufacturing plants that produce clothing, utility trailers, poultry house equipment, waste and scrap balers, wood products, nuclear power, industrial pumps, resins, and metal building; all of which benefit from a strong work force.
Incentives
Community support of a new industry is vital to the relocation or startup process.  That's why Appling County has put together a package of local incentives to assist industry.
Available incentives are based on investment, job creation and credit-worthiness.
Aggressive land and building offerings
Tax-reduction plans
Reduced-interest loans/lease-purchase agreements
Coastal Pines Technical College customized program training
Specialized labor recruitment beyond Department of Labor/One Stop Career Center
100 percent Freeport tax exemption
Georgia QuickStart program training at no cost
$4,000 per-job tax credit for new and expanding industry
Georgia retaining tax credit
Georgia investment tax credit
Georgia research tax credit
RLF-Low-interest revolving loan fund
Although many suitable sites are available in Appling County, the primary industrial areas consists of three industrial parks.
Park East is located on State Route 27/U.S. Highway 341 East (the Golden Isles Parkway), a four lane highway connecting Interstates 75 and 95. The largest available site is 20 acres, some of which fronts U.S Highway 341 for commercial/Industrial use.
Park West consists of 187 acres with approximately 40 usable and available acres.  It is located on the Golden Isles Parkway west of Baxley.  The park has a 300,000-gallon elevated water tank and 8-inch water and sewer lines with services provided by the city of Baxley. In addition to 4" high pressure steel main natural gas line.
The future Appling County Rail Park was purchased in 2016 and is a 330 acre parcel of land the Development Authority is actively working to prepare for development. This land is adjacent to Norfolk Southern Railroad.
Sweetwater Creek Industrial Park, owned by the Southeast Georgia Regional Development Authority , consists of 128 acres with 78 acres available.  The largest site is 40 acres., and is also located on the Golden Isles Parkway.  This park is a joint venture between the Appling, Bacon and Jeff Davis Counties.   The park is served by Norfolk Southern Railway and connects with the Georgia Port Authority terminals in Brunswick.
For more information, contact the Development Authority of Appling County at 912-367-7731
Location, Location, Location
Appling County is strategically located and offers excellent transportation options.  To the west is Interstate 1-75 and to the east is I-95, along with four-lane highway access via U.S. Highway 341 (Golden Isles Parkway).  To the north is Interstate I-16 and to the south is 1-10 via developmental U.S. Highway 1.  Also, Norfolk Southern rail service runs through the county with quick access to the Port of Brunswick.
While agricultural remains the primary industry, there is also manufacturing companies, distributors, and processing plants.  Our future also looks bright for biomass projects.  Appling County is in the heart of the nation's "wood basket" and is already home to Interfor Sawmill and Chipmill and Fram Renewable Fuels, a wood pellet plant.  We have long been associated with the Forest Industry, with numerous companies involved in harvesting, trucking, storage, production, and other related activities.  The great part is that with increased markets for wood products, we are able  to give incentives to our tree farmers to continue to invest in reforestation.
| | |
| --- | --- |
| Southern Nuclear | 900 |
| Appling Schools | 515 |
| Appling Healthcare System | 322 |
| Appling County | 165 |
| Interfor | 170 |
A quality education goes a long way in life.  That is why in Appling County there is an ongoing commitment to continuously reviewing, updating and strengthening our academic programs.  Our schools work to prepare students to pursue secondary education or technical training to complete in today's workforce.  The schools also offer robust extracurricular activities and strong athletic programs to help develop well-rounded students.
Appling County Schools (appling.k12.ga.us)
Appling County Schools are committed to providing a quality education that promotes maximum individual achievement and social responsibility.
Altamaha Elementary School Pre-K-5th Grade
Appling County Elementary School 3rd-5th Grades
Appling County High School 9th-12th Grades
Appling County Middle School 6th-8th Grades
Appling County Primary School Pre-K-2nd Grades
Fourth District Elementary School Pre-K-5th Grades
Appling Christian Academy (applingchristian.com)  Appling Christian Academy is a great place to receive a well-rounded, quality education in a clean and wholesome atmosphere.  The motto of ACE is Blending Biblical Values with Educational Pursuits, ACA is a college-preparatory school for Pre-K through 12 grades.
Coastal Pines Technical College (coastalpines.edu)
Coastal Pines Technical College (CPTC), a unit of the Technical College System of Georgia (TCSG) was established July 1, 2014, from the merger of Altamaha Technical College (est.1989) and Okefenokee Technical College (est. 1965). The State Board of the Technical College System of Georgia announced the merger August 1, 2013.
The name and mission statement for the consolidated College were submitted to the State Board for consideration in October 2013 by the Altamaha Technical College (ATC) and Okefenokee Technical College (OTC) local boards. Both, the name and the mission statement, were approved at the October 3, 2013, State Board meeting, two months after the merger announcement.
On April 15, 2014, CPTC officials submitted the Substantive Change Prospectus to the Southern Association of Colleges and Schools Commission on Colleges (SACSCOC) Board of Trustees. Then at its June 19 meeting, a few days prior to the pending CPTC start date, the SACSCOC Board accepted the prospectus and approved the merger.  Both ATC and OTC were SACSCOC accredited institutions. Therefore, the SACSCOC Board of Trustees also approved the new organization, Coastal Pines Technical College, to be SACSCOC accredited.
A SACSCOC Substantive Change Committee will visit CPTC in October 2014 to verify the new institution is in compliance with the Principles of Accreditation in anticipation of reaffirmation of accreditation in 2019. Additionally, many programs hold industry-specific accreditations, licensures, and approvals from various state and national agencies.
Other Colleges Close Proximity
South GA State/ sgsc.edu : Waycross or Douglas, GA
Georgia Southern University/ georgiasouthern.edu : Statesboro, GA
Abraham Baldwin  Agricultural College (ABAC)/ abac.edu : Tifton, GA
Brewton Parker / bpc.edu:  Mt. Vernon, GA
Hope Scholarship Program:  HOPE is Georgia's unique program that rewards high school students' hard work with financial assistance in degree, diploma, or certificate programs at any Georgia public or private college, university, or technical institute.  The program will ensure your company will have an educated, trained workforce as long as it is located in Georgia.
Recreation
The Appling County Recreation Department proudly offers a wide range of sports activities for youth of all ages!  Sports leagues include softball, baseball, soccer, basketball, football, football cheerleading, track and swimming.
The Appling County Recreation Department is a proud member of the Georgia Recreation and Parks Association (GRPA) and supports its mission to promote the recreation and park industries within the state of Georgia.  The recreation department is committed to offering quality sport activities for the local youth in a safe and friendly environment and invites everyone to join us!
For the latest information on upcoming activities and to register, visit applingrec.com or call 912-367-8190.
Lake Mayers
Lake Mayers is a beautiful lake and a great place to bring your family for a day of fun in the sun.  The water is cool and there is a place for swimmers roped off so the boats and jet skis don't interfere with each other.  Clean rest rooms and picnic tables are available.  If you like fishing or just lying close to the shore, the cool well-manicured grass goes right to the water while the beach for the swimmers has nice white sand for the kids to make sand castles.
Lake Tara
Lake Tara Self-proclaimed to be one of the cleanest lakes in Georgia, this lake offers resort living, gated communities, and a public beach on the northern shore for family outings. Members of the Property Owners Association and resort visitors have access to multiple outdoor pools, tennis courts, picnic areas, recreation centers, marina, sandy beaches, nature trails, and, of course, Lake Tara where swimming, canoeing, sailing, jet skiing, wake boarding, tubing, knee boarding, boating, and waterskiing are enjoyed.
Since 1951, Appling HealthCare System has been dedicated to providing our patients/residents the highest quality of medical care possible.
Appling HealthCare System located in Baxley, Georgia is a licensed, non-profit acute care medical facility.  Appling HealthCare System is licensed for 49 beds (15 of these beds serves as our Geriatric Behavioral Health Unit)  and offers an array of high quality, technologically advanced inpatient and outpatient health care services to Appling County and surrounding communities. appling-hospital.org