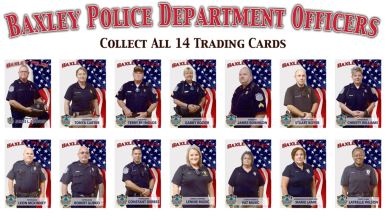 Encourage your kids to participate in this trading card program by the Baxley Police Department and they could win a great prize...
Baxley Police introduce "Card-a-Cop" trading cards
By James L. Godfrey, Chief Of Police
The Baxley Police Department is pleased to announce the Card-a-Cop trading card program that has now begun. This program is designed to help our area youth become more familiar with the law enforcement officers with the City of Baxley's Police Department. This program is not new; it was implemented in our city's police department back in 1996, and then after rave reviews, again in 1998, where at both times it was a huge success. The program has since caught on in several other cities around the globe and in Georgia, as a means of police officers getting back to the idea of community policing.
The idea behind our program is to reach kids ranging from 5 to 15 years of age. You ask why this age group? It's because these young people are constantly being subjected and exposed to an increase in stress such as from the streets, school, TV, social media outlets and even their peer groups of friends and family that they inter¬act with on a daily basis. These young people need something positive in their lives in today's world more than ever.
By bringing this program back, we're attempting to instill positivity with our program. Young people today view football players and such as idols, so why not let them become familiar with some of their own hometown idols (heroes) from the City of Baxley's Police Department.
What better time than Christmas to start this program. Our hope is that everyone has a wonderful and enjoyable time while out collecting the cards from the officers and staff. The cards are beautiful and have information about the officer on the back of them.
Good Luck and Merry Christmas. Now onto the rules:
The rules of the program are simple. No relatives of the law enforcement officers are permitted to take part in the contest to win prizes, but they can collect the cards. The desired age of the young people who wish to participate is from 5 to 15 years of age.
Children who wish to participate for prizes must first contact each individual officer and collect an unsigned card from him. Then when they have collected a full set of unsigned cards, they must take them to the police department, where they will be verified and noted by a representative and returned to the child in order that he/she must once again go to each officer and get him to sign the individual card.
Once the set is completed again, this time with each card being signed, the child will submit the signed set of cards to the Chief of Police or designee where he/she will then verify that each card has been signed by the respective office; afterwards this will also be noted.
This means that each child will make two contacts with each law enforcement officer.
The first boy and the first girl to turn in a complete set of signed cards in each allotted group will be declared the winners of the contest. The groups are as follows:

Group I will consist of kids ranging from 5 to 8 years of age;
Group II will consist of kids ranging from 9 to 12 years of age;
Group III will consist of kids ranging from 13 to 15 years of age.

When the program is completed with winners in all groups being named, an awards program will be held for the presentation of prizes to the winners of all three groups in the program. Both winners and their individual family members are invited to attend the awards ceremony that will be held in the council chambers at Baxley City Hall where each winner of the allotted groups will receive a prize. The winners will be notified of the time and date as soon as the program ends.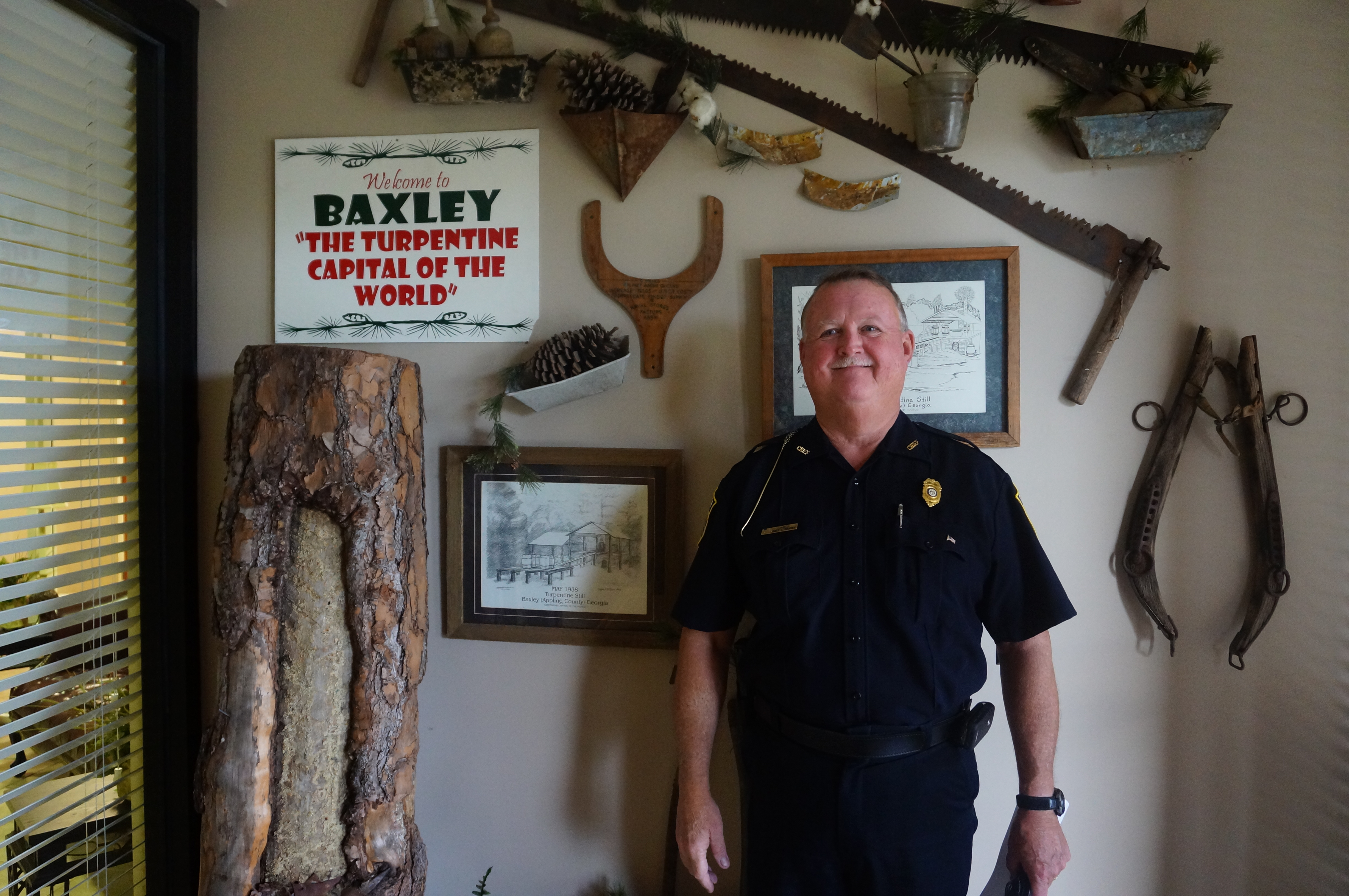 Chief of Police, James Godfrey
Service to the Community
The Baxley Police department strives to provide a safe and secure hometown for the citizens of Baxley. By sponsoring innovative community based programs, we try to maintain a sense of trust and cooperation with the people we serve.
With our school system, the Police Department sponsors the Drug Awareness Resistance Education (D.A.R.E.) Program and provides School Resource Officers for the Middle and High Schools.
Always ready to serve, the officers of the Baxley Police Department are dedicated men and women who make a difference in their community. The Police Department welcomes your input, ideas and suggestions.
Contact the Department:
James Godfrey, Police Chief
Office Hours 8:00am- 5:00pm Monday - Friday
560 Barnes Street Suite C
Baxley , GA 31513
P: 912.367.8305
F: 912.367.8335
For Emergencies please call 911
Non-Emergency 911
912-367-8111
The City of Baxley provides fire service to all residents of the city and those living within a five-mile radius of the intersection of US 1 and US 341. The Department consists of all paid employees and the ISO rating for the city is 5.
The Baxley Fire Department has fire drills on Tuesdays at 7:00 PM. This is the only scheduled time that anyone will be present at the fire station. If you need a fire report or to contact a member of the Baxley Fire Department, you may contact City Hall for assistance.
Fire Chief: Trampis Carter
Assistant Fire Chief: Stephen Wolfson
Captains: Jerry Thomas & James Hayes
The department has implemented the following initiatives to reduce the residential and commercial fire rates.
Yearly visits to Appling Co. Schools Pre –K – second grade distributing fire prevention literature, coloring books, hats, pencils etc. along with teaching fire prevention and personal fire safety.
Established Baxley Fire Department Ladies Auxiliary to assist promoting fire prevention and awareness in the community
Provides pre-fire plans for various businesses in the community
All fire hydrants are marked with blue reflector markers
Fire hydrants are on a scheduled maintenance plan
Participate in a mutual aid agreement with all county fire departments and adjoining city and county fire departments.
All employees are State of Georgia Certified Firefighters and participate in classroom and hands-on training under a certified fire instructor
Extended fire suppression lines and hydrants to rural areas
Maintain hazardous materials inventory for local businesses and industries
Participate in all Emergency Management Drills