Easter Egg Hunt
April 20th, 2019
City of Baxley Fun Run & 5K March 23rd, 2019

Splash in the Park




June 29th, 2019



Christmas in the City
December 11th, 2019
Winter Wonderland
December 14, 2019
2019 Easter Egg Hunt Saturday, April 20th, 2019
2019 City of Baxley Fun Run & 5K Saturday, March 23rd, 2019
Folks of all ages and fitness levels enjoyed participating in the Annual COB Fun Run scenic walk/run through the small town of Baxley, hosted by Mayor Tim Varnadore and the City of Baxley.  After the race,  participants enjoyed a pancake breakfast hosted by Boy Scout Troop 472.
Children of many ages come to play in the fountain at the Water Park and enjoy the inflatable slides..  Ice cream treats are provided when they work up an appetite after playing in the water! This  is a free event sponsored by the City of Baxley.
2018 Winter Wonderland Saturday, December 8th, 2018
Kids of all ages descended on the Baxley Green for Winter Wonderland 2018, sponsored by the City of Baxley. From horse drawn carriage rides to roasting marshmallows around an open fire this event is the epitome of a heartfelt small town Christmas. Baxley's children kept Santa busy going over their wishlists and taking pictures. We hope he gets back to the North Pole in time to make his list and check it twice. We rarely get snow days in South Georgia, but for one special night, it magically appeared on the new snow slide and in the snow pit, where children made snowmen and dodged snowballs. This year's crafts included making jingle bell necklaces and reindeer food as well as color scratch ornaments, face painting and decorating homemade gingerbread cookies. We have something for everyone at this small town Christmas and we hope to see you there next year.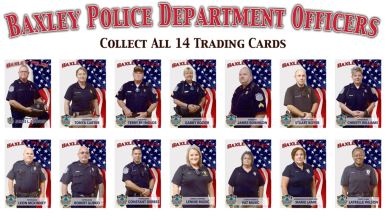 Encourage your kids to participate in this trading card program by the Baxley Police Department and they could win a great prize...
Baxley Police introduce "Card-a-Cop" trading cards
By James L. Godfrey, Chief Of Police
The Baxley Police Department is pleased to announce the Card-a-Cop trading card program that has now begun. This program is designed to help our area youth become more familiar with the law enforcement officers with the City of Baxley's Police Department. This program is not new; it was implemented in our city's police department back in 1996, and then after rave reviews, again in 1998, where at both times it was a huge success. The program has since caught on in several other cities around the globe and in Georgia, as a means of police officers getting back to the idea of community policing.
The idea behind our program is to reach kids ranging from 5 to 15 years of age. You ask why this age group? It's because these young people are constantly being subjected and exposed to an increase in stress such as from the streets, school, TV, social media outlets and even their peer groups of friends and family that they inter¬act with on a daily basis. These young people need something positive in their lives in today's world more than ever.
By bringing this program back, we're attempting to instill positivity with our program. Young people today view football players and such as idols, so why not let them become familiar with some of their own hometown idols (heroes) from the City of Baxley's Police Department.
What better time than Christmas to start this program. Our hope is that everyone has a wonderful and enjoyable time while out collecting the cards from the officers and staff. The cards are beautiful and have information about the officer on the back of them.
Good Luck and Merry Christmas. Now onto the rules:
The rules of the program are simple. No relatives of the law enforcement officers are permitted to take part in the contest to win prizes, but they can collect the cards. The desired age of the young people who wish to participate is from 5 to 15 years of age.
Children who wish to participate for prizes must first contact each individual officer and collect an unsigned card from him. Then when they have collected a full set of unsigned cards, they must take them to the police department, where they will be verified and noted by a representative and returned to the child in order that he/she must once again go to each officer and get him to sign the individual card.
Once the set is completed again, this time with each card being signed, the child will submit the signed set of cards to the Chief of Police or designee where he/she will then verify that each card has been signed by the respective office; afterwards this will also be noted.
This means that each child will make two contacts with each law enforcement officer.
The first boy and the first girl to turn in a complete set of signed cards in each allotted group will be declared the winners of the contest. The groups are as follows:

Group I will consist of kids ranging from 5 to 8 years of age;
Group II will consist of kids ranging from 9 to 12 years of age;
Group III will consist of kids ranging from 13 to 15 years of age.

When the program is completed with winners in all groups being named, an awards program will be held for the presentation of prizes to the winners of all three groups in the program. Both winners and their individual family members are invited to attend the awards ceremony that will be held in the council chambers at Baxley City Hall where each winner of the allotted groups will receive a prize. The winners will be notified of the time and date as soon as the program ends.